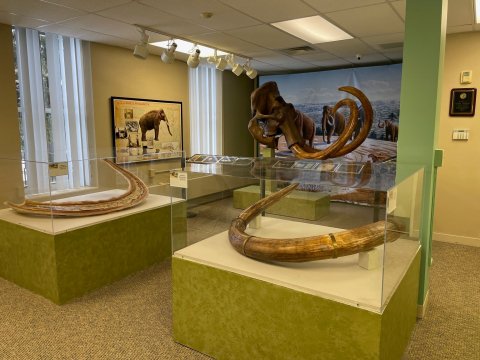 Thursday, March 3, 2022 - 9:00pm

to

Saturday, October 15, 2022 - 2:00pm
The Randolph Mammoth, one of the most complete examples of its species ever discovered in New York state, returns to the Cattaraugus County Museum and Research Library as the centerpiece of a new fossil exhibit!
The Randolph Mammoth is one of the most complete mammoth specimens ever found in New York State; most other mammoth material is fragmentary, often consisting of just a tooth. It is believed to be a Columbian Mammoth, considerably rarer in our region than the Wooly Mammoth. Both tusks together weigh about 150 lbs. The skull weighs about 200 lbs. When living, the mammoth probably stood about 14 feet high at the shoulder!
Cattaraugus County Museum in Machias, NY
The County Museum may be open Monday through Thursday, 9:00am to 4:00pm, and the third Saturday of each month, May through October, from 10:00AM-2:00PM. Note: Please check the County Museum's website for the latest hours.