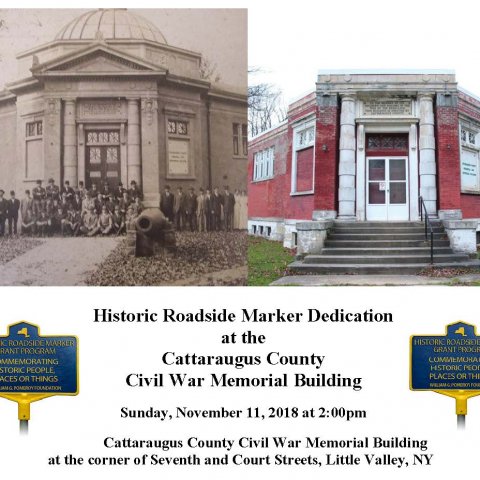 Sunday, November 11, 2018 -

2:00pm

to

4:00pm
The Citizens Advocating Memorial Preservation and the Cattaraugus County Civil War Memorial Building are inviting the public to the dedication of a Historic Roadside Marker at the Building on Veteran's Day, November 11th 2018.  Being appropriately held on Veteran's Day, a celebration of the service of all U.S. military veterans, the building was originally dedicated in 1914 as a memorial to those from the county who fought in the Civil War.  It was also used as the Cattaraugus County Museum until the early 2000s and was host of the 33rd Annual Reunion of the Descendents of the 154th NY Volunteer Infantry in summer of 2018.
The dedication will include short remarks commemorating the building and the new historic marker followed by the unveiling of the sign. Members of the public are invited to attend. The event is being hosted by Citizens Advocating Memorial Preservation (CAMP).  In 2017, CAMP took ownership of the building and the group is currently working on restoration and reuse plans for the complex.  CAMP is a 100% volunteer-run, 501(c)(3) not-for-profit organization. For more information about the building, CAMP, and how you can help, please visit cattcomemorial.com.  The Memorial Building is located on the corner of Court St. and 7th St. in Little Valley, NY 14755.  For more information on this event please visit https://www.facebook.com/cattcomemorial.