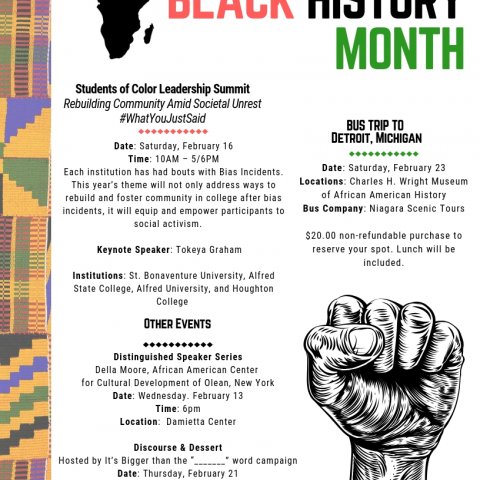 Wednesday, February 13, 2019 - 6:00pm

to

Thursday, February 21, 2019 - 11:30am
The Damietta Center for Multicultural Student Affairs at St. Bonaventure University will celebrate Black History Month throughout February with a number of events and activities, including a Feb. 13 presentation by Della Moore, founder and director of the African American Center for Cultural Development in Olean.
Moore's talk, the inaugural presentation in the Damietta Center's Distinguished Speaker Series, will take place at 6 p.m. Wednesday, Feb. 13, in the Damietta Center, Room 208 of the Reilly Center on campus.  Moore will talk about the role Olean played in the Underground Railroad. She will also discuss the services offered by her center, which serves as a museum and education center, as well as a community, heritage and cultural center, celebrating the talents, lives and history of African Americans in the region.
Other events include:
Feb 16 - Students of Color Leadership Summit. The event, titled "Rebuilding Community Amid Societal Unrest: #WhatYouJustSaid," will take place from 10 a.m. to 5 p.m. in the Damietta Center. The summit's keynote speaker is Tokeya C. Graham, an English professor at Monroe Community College, writer, and founder of Soulstainable Living, a movement that advocates a community-based lifestyle that encourages spiritual healing and continued education.
Feb 21 - Other Black History events include "Discourse & Dessert," hosted by the university's "It's Bigger than the (    ) Word" campaign. This event, to be held at 11:30 a.m. Thursday, Feb. 21, in the Walsh Science Center amphitheater, will feature a panel discussion on "The State of Black and Brown Relations at SBU." University students, faculty and staff will participate.
All events are open to the public.