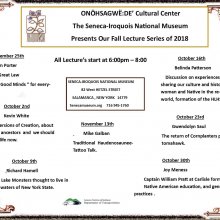 Dates:
Tuesday, September 25, 2018 - 6:00pm

to

Tuesday, November 13, 2018 - 8:00pm
Come to any of these informative and relevant lectures starting September 25 at the Seneca-Iroquois National Museum, which is now housed in the new Onöhsagwë:de' Cultural Center, recently opened.
All lectures are from 6:00-8:00pm, are free to attend, and open to the public.  The schedule is as follows:
Sept 25: Tom Porter - The Great Law: Using our "Good Minds" for everyday living.
Oct 2: Kevin White - Seneca Versions of Creation: About how our ancestors and we should be living life now.