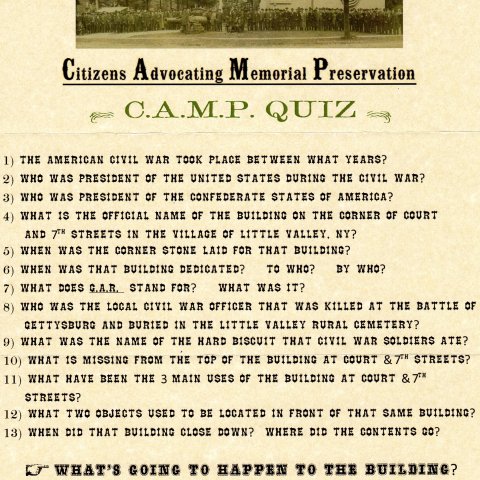 Monday, May 29, 2017 -

9:00am

to

9:30am
Memorial Day Ceremony—Citizens Advocating Memorial Preservation (C.A.M.P.) will hold a brief Memorial Day Ceremony at the Cattaraugus County Memorial and Historical Building located at the corner of Court and 7th Streets in the Village of Little Valley, NY.  CAMP is the 501 c 3 non-profit organization which has been working for three years to save and restore this Cattaraugus County owned Memorial to its Civil War Veterans.  The Ceremony will be on Monday May 29, 2017 at 9:00 am before the annual Little Valley Memorial Day Parade and Cemetery Ceremony.  Everyone is invited to attend both events to honor America's Veterans.
For fun, see how many answers you can get on the quiz in the photo!  For more information on CAMP, please visit their Facebook page!