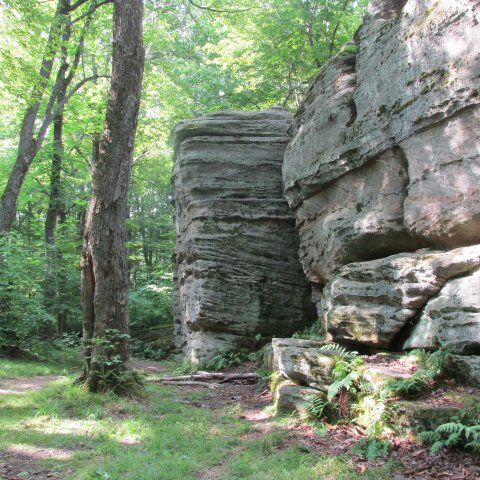 Wednesday, March 21, 2018 -

11:00am

to

12:30pm
The Nannen Arboretum Society of Ellicottville, NY is proud to present the first of the 2018 educational classes for the general public. Education is an integral part of the mission of the Nannen Arboretum Society. The initial presentation will be given by Tim Baird on Wednesday March 21 at 6pm at the Town Center (28 Parkside) in Ellicottville, NY.
The talk is titled The Continental Glacier and Cattaraugus County. Baird is a retired science teacher, avid and knowledgeable birder, and has a lifelong interest in the geological history of our area. Baird says, "During the Pleistocene (glacial) epoch, nearly all of New York State was covered by ice. In some regions it was a mile or thicker. Today there is much evidence showing that the continental glacier impacted the land area that is now New York State. Most of Cattaraugus County was ice covered. However, the area to the south and immediately north of the current course of the Allegany River, including nearly all of Allegany State Park, lay beyond the extent of the ice.
Known as the Salamanca re-entrant, it is the only unglaciated part of New York State. Although not directly covered by ice, the region of the Salamanca re-entrant was impacted by the ice to the north." This program will summarize the glacial period in Cattaraugus County and examine some of the noticeable effects left on the region following the retreat of the glacier. Did you know that the ice helped form lakes, and changed the course of the river? We are all familiar with Zoar Valley and the rocks at Rock City, Panama Rocks, and Thunder Rocks. You may, however, not know about the true details of these areas.
Please join us to learn some fascinating facts! For the glacier presentation there will be a $5 fee payable at the door.   Visit them online at www.NannenArboretum.org or call them at 716-699-5046.
Other presentations and activities coming up in 2018 at the arboretum include:
April 27                      Arbor Day Celebration
June 13                    Earth Spirit Educational Services will have a talk on wolves
September 23           Open House at the Arboretum
December 5              Workshop to make wreaths and swags