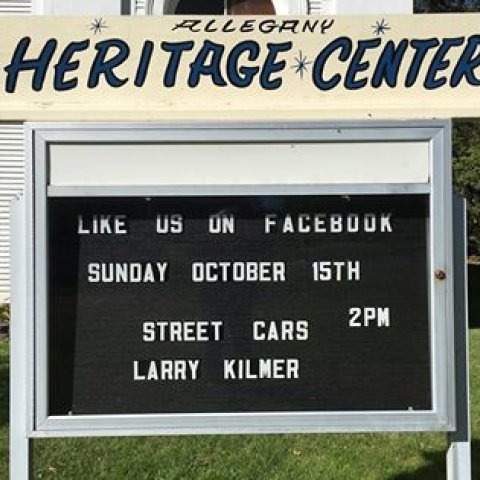 Sunday, October 15, 2017 -

2:00pm

to

4:00pm
The Allegany Area Historical Association will feature speaker Larry Kilmer in an upcoming event held at their Heritage Center in the Village of Allegany.  The Olean Street Car Company operated in our area from the 1860's to 1927.  It ran from Olean to Allegany, all the way to Little Valley, Bradford, Bolivar, Shinglehouse, and a lot of stops along the way. 
On Sunday, October 15 at 2 p.m. at the Heritage Center, 25 North Second Street, Allegany, Larry Kilmer  will tell us about the history of the street cars in our area.  Larry, a native of Olean, has had a long time interest in street cars and railroads in the area.  He collaborated wtih his father on three books about area railroads, and is working on a book of his own about the railroads that came through Olean from 1851 to the present. 
Larry, on the board of the Olean Historical Society and the Eldred, Pa. Historical Society, will bring some of his collection of railroad artifacts that he has gathered for over 50 years. Larry will fill in a forgotten part of our history and tell how street cars changed the face of Allegany.

For more information on this event please visit https://www.facebook.com/AlleganyHeritageCenter/